EXTRACTION AND REGENERATION
Tooth extraction in Puerto de la Cruz, Tenerife. Bone regeneration
EXTRACTION AND REGENERATION
At the Artedental Tenerife clinic when a damaged tooth is extracted, the remaining bone is regenerated.
From anaesthesia to the extraction of the tooth, the whole process will be a painless experience. Once the affected tooth has been extracted, the tissues in the area are reconditioned to ensure the viability of future treatments.
ARTEDENTAL DENTISTS AND SURGEONS USE THE MOST UP TO DATE BIOMATERIALS AND TECHNIQUES, THUS AVOIDING IN MOST CASES "MAJOR SURGERY FOR BONE REGENERATION".
Types of tooth extraction:
1. Simple tooth extraction
This procedure is performed when the tooth is visible. The tooth is loosened using a tool called an "elevator" and then the tooth is extracted from its socket using forceps.
2. Surgical tooth extraction
This is performed when a tooth has not erupted at the gum line, has broken below the gum line and must be extracted in small pieces or if the tooth is so badly eroded that a simple extraction cannot be done. It will also be necessary for more complicated cases such as curved, tangled, very long roots or a lot of bone around the tooth.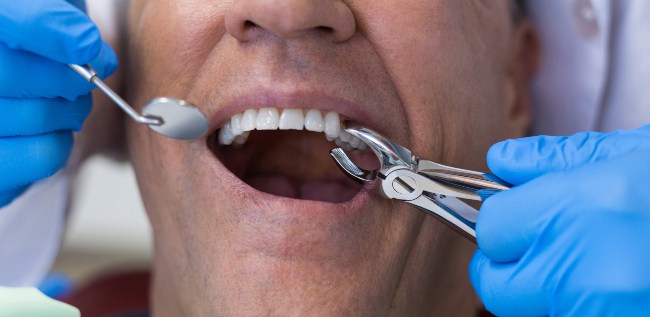 New techniques in alveolar preservation ensure the success of subsequent dental implant treatments, both from a functional and aesthetic point of view.
The alveolar bone forms part of the maxillary bone and is responsible for supporting the tooth sockets and holding the root of the tooth. The loss or extraction of a tooth will cause a reabsorption of this bone, which can lose up to 60% of its height and width in the first 3 years. Regeneration is aimed precisely at preventing this loss, which is why they are carried out at the time of extraction.
The dentists and specialists at Artedental use a system based on the extraction of blood from the patient to obtain autologous fibrin rich in platelets and leukocytes, also known as L-PRF. This technique reduces the healing time and helps bone regeneration to be optimal.
Artedental, in Puerto de la Cruz, was the first dental clinic in the Canary Islands to use autologous material, i.e. the patient's own material, in this case the patient's own teeth.
Frequently asked questions
No, tooth extractions do not hurt, they are performed under local anaesthesia and the patient does not experience any pain.
The price of a simple tooth extraction at Artedental is between 50€ and 60€.
The best option is undoubtedly to replace the missing tooth with a dental implant.