GUIDED SURGERY FOR DENTAL IMPLANTS
Dental surgery in Puerto de la Cruz. Dentist Tenerife
GUIDED SURGERY FOR DENTAL IMPLANTS
Computer-guided surgery is a technique that allows implants to be placed in the exact planned location with the help of a computer and 3D technology.
It is a minimally invasive surgery without cutting.
This technique provides total precision in implant placement, reduces implant surgery time and significantly improves the postoperative period.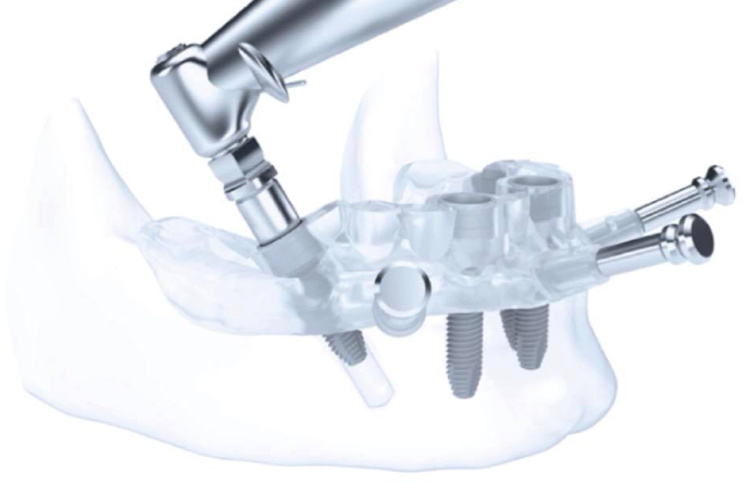 Advantages of computer-guided surgery for dental implants
1. Greater precision.
The result is more aesthetic and predictable in both simple and complex cases thanks to the prior planning carried out. Human error is reduced.
2. Smaller incisions
No need for stitches or cuts.
3. Reduced procedure time
The time dedicated to the intervention is much less, the surgery is reproducible, less invasive and traceability is facilitated.
4. Better postoperative period and fewer visits
The risk of bleeding during surgery, the risk of infection and post-operative pain and swelling are reduced. Healing takes less time and fewer check-ups are required.
Process of a computer-guided surgery
The first step is to carry out a 3D scan of the patient in order to obtain images of his or her mouth and transfer this information to the computer. With the help of CAD/CAM software, the implantologist studies the quality and quantity of bone and determines the position of the implants.
The patient will be able to see a simulation of how the implants will look once they are in place in his or her mouth.
With the data obtained, a surgical guide is made which serves as a guide for inserting the implants in the location and position previously determined in the planning.
During the surgical phase, the gum is drilled at the precise location.
Frequently asked questions
CAD stands for Computer Aided Design and CAM for Computer Aided Dental Manufacturing. CAD/CAM technology is a system that assists in the design and manufacture of dental prostheses using a computer.
With this digital technology, dental restorations are designed and then manufactured very precisely and to the highest quality, greatly reducing the margin for human error and achieving even higher success rates.
Computer-guided surgery is especially indicated for cases with little bone and where absolute precision in implant placement is required.