TOOTH WHITENING
Tooth whitening in Puerto de la Cruz, Tenerife
Laser tooth whitening in a single session. The results are long-lasting and have no side effects. LED teeth whitening complemented with an outpatient treatment with splints makes teeth up to 8 shades whiter.
Teeth whitening is a safe process as long as it is supervised by a professional.
The procedure is simple but requires great care on the part of the professional who performs it.
First of all, the type of colouring of the teeth must be assessed in order to know what degree of white we can realistically achieve. There are stains that cannot be removed, such as those caused by tetracyclines.
The teeth are then impregnated with the concentrated whitening gel and activated with the LED light. The gel is exposed to the light for 15 to 20 minutes on the teeth. One to three procedures are performed with a break between them in the same session.
IT IS A VERY SAFE PROCEDURE AS LONG AS THE INDICATIONS ARE STRICTLY FOLLOWED AND IT IS SUPERVISED BY A PROFESSIONAL.
A poor evaluation of the health of the gums and teeth, an excess of concentration or application time must be avoided, as they can end up producing hypersensitisation of the teeth, alterations of the enamel or irritation of the mucous membranes. It is therefore necessary that it is carried out in the clinic.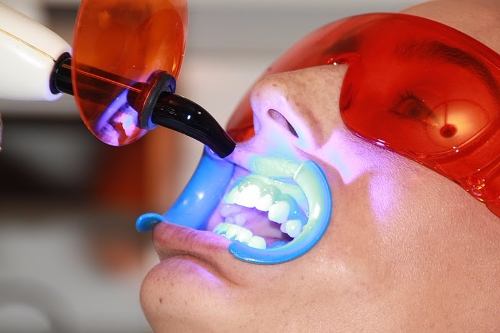 Teeth whitening with splints
The whitening carried out in the dental surgery can be completed with the use of splints soaked in whitening gel to be used at home at night for about four weeks. This type of whitening can be done independently but it will then be necessary for the professional to properly check the state of health of our mouth beforehand, as in the previous step.
The use of these splints reinforces and strengthens the whitening, making the whitening last longer.


Frequently asked questions
No, it does not hurt to have your teeth whitened.
If you have your teeth whitened in a clinic, such as Artedental Tenerife, the only side effect is a temporary increase in tooth sensitivity. And if it occurs, it will subside completely within two weeks.
Teeth whitening can last between one and two years depending on your eating habits.
During the first few days you should be especially careful not to eat foods that stain your teeth, such as coffee, wine, tea, soy sauce or brightly coloured vegetables. Remember that smoking is also very harmful to the colour of your teeth.
In our dental clinic in Puerto de la cruz, a whitening is priced from 90 € (+ 60 € for dental cleaning).
Ask for a free appointment and we will give you a no-obligation quote.